Here's to the ones that we got
Cheers to the wish you were here but you're not
'Cause the drinks bring back all the memories
Of everything we've been through
Toast to the ones here today
Toast to the ones that we lost on the way
'Cause the drinks bring back all the memories
And the memories bring back
Memories bring back you

Memories, ♫Maroon 5♫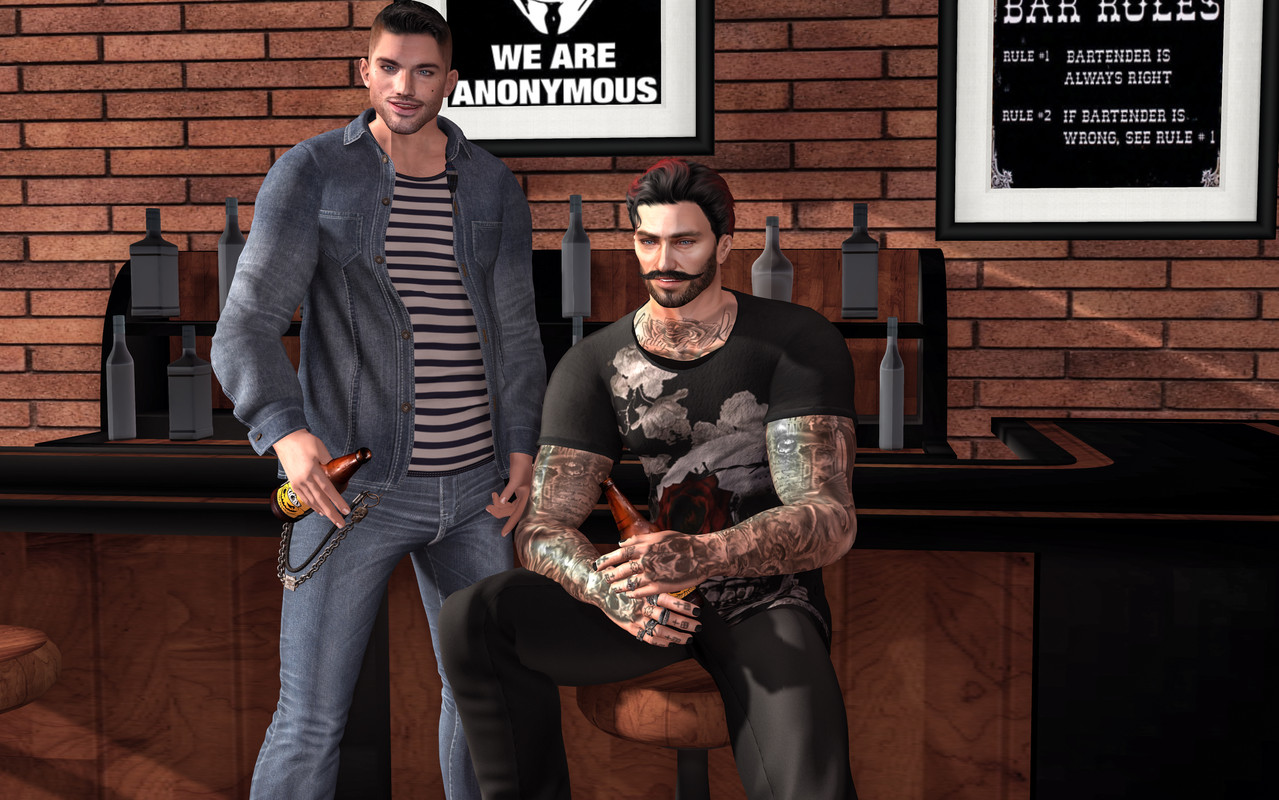 The strength it's taken me to do this post was something I was unsure of ever happening. Those who know me have undoubtedly been aware of my absence from blogging and or social media and there's been a very valid reason. In September, my reality suffered a tremendous loss and while I don't want to go into details as it's not something I'm comfortable with but I wanted to make sure that when the time was right for me that I'd find a way to work it out through virtual artistry.
I've prided myself on the ability to be creative but lately it just hasn't been there and it's taken me away from the virtual side of things. My passion for it has been lacking and I don't want to put anything less than 100% when I'm able to do it, otherwise it shows and if I can tell then I'm pretty darn sure that others can see it too.
While I've been away and dealing with the situation, some really excellent clothing has come out that I've wanted to promote and show because of how much I love it. Lapointe & Bastchild has been around for a long time and when it comes to their loyalty to their customers (as well as their bloggers) they rank among the top of any brand. They take the time to listen to the people that purchase and wear their clothing and even take the time to refresh some of the items by adjusting some of bugs for how it fits with a certain body or add a new body to the list of those that are asked to be added (within reason because creation of these things take a lot of time and effort to a degree that a lot of us fail to realize). The denim version of the "Ranger Shirt" was given an upgrade with some tweaks to some of the mesh bodies that have also made updates and with that the patterns have been given a refresh too. Long sleeve shirt on top of short ones are one of my favorite types of clothing so to see this update was a welcome one for me.
I might have missed it's initial release at TMD in September but believe me when I say that the "Havoc Jeans" are everything. With three different types: Reg, Rolled and Tapered (which come in handy with different boot styles) and the ability to wear a pocket chain (also a feature that would make others beside myself shout "take my money!") these jeans are a huge contender for the Heavyweight Champion in the male jeans market. For those who may have recently picked up the leather pants version of "Havoc" (which I will be showcasing hopefully soonish) that are currently at the November round of TMD, the key fob from it also works with the jeans and vice-versa with the chain. Lots of great features that are interchangeable between both releases. Please keep in mind that to get the chain and key fob are only available with the FATPACK version of both "Havoc" styles. If you have purchased a single color of either product, I believe that you can contact the store manager or the creators to upgrade to FATPACKs so you can get the bonus add-ons. It's well worth it from my vantage point as someone who loves these kind of jeans/pants.
Compatibility for the "Ranger Shirt" and "Havoc Jeans" include: Belleza Jake, Signature (Geralt & Gianni) and SLink Physique (with an alpha for the SLink Redux version).
One thing I want to say that I feel is important is I know that we spend a lot of time focusing on things that may seem super important to us and tend to look past those that should be important. Look closer to those details because there will be a time that you'll wish you'd paid more attention to them and will grow to regret it. Everyone's situation is different and that is understandable but I think that we've all got people that mean a great deal to us and we should show them that because then neither you or they will ever have to question the importance they play.
I'm trying my best to not make this a downer post as that is not my intention, however, there have been many people I know virtually that have recently gone through something similar in their lives so this is not so much entirely for me as it is for them as well because we all are finding our ways to cope. The days, months and years to come will forever be changed but with all the love and support from those around us, it may never every bit of the hurt inside away but it will at least help us heal to some degree.
To live in hearts we leave behind is not to die.
Thomas Campbell
POSE: Come Soon Poses – The Club
BACKDROP: Come Soon Poses – Friday Night 04
–

Brennan's Look

–
HEAD: LeLutka – Guy v3.4
SKIN: Session Skins (Store / MP) – Tom (Tone 02)
SHIRT: L&B Swear (Store / MP) – Ranger Shirt / Denim (Fatpack) ✦ Updated
JEANS: L&B Swear (Store / MP) – Havoc Jeans (Fatpack)
– Mike's Look –
HAIR: Stealthic – Atlas
HEAD: Catwa – Daniel v3.2
SKIN: Stray Dog – Joaquin (Tone 03)
MUSTACHE: Magnificent – DanielHipster Stache & Beard Medium
BEARD: TheSkinnery – Jason Facial Hair
BODY: Signature – Gianni v4.8
TATTOOS: Speakeasy – Storm
SHIRT: Ink Me – Jacob Shirt @ Christmas Lane
PANTS: Cheerno Sado – RopePants @ The Men Jail ✦ NEW