I want to feel a change
I don't mind if it hurts
You take away the pain
You're the only thing that's pure

The Exies, ♫Tired Of You♫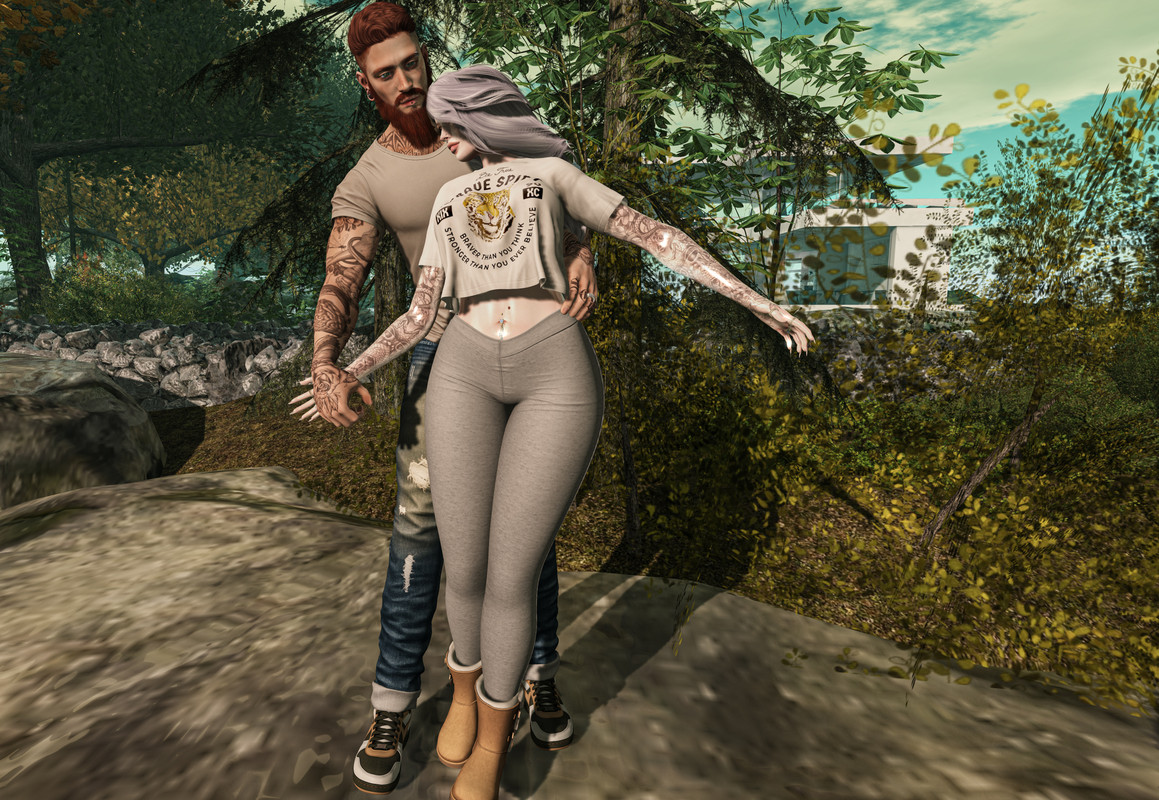 It's been a long time since I've had the pleasure of taking a photograph with guests posing for me so I thought it was time to change that. Thankfully the timing was right that I was able to snag my brother Lucky and his lady, Aria, at their home for what I feel turned out to be a really great photo. Both Lucky and Aria both are photographers as well so for them to do this for me is a big deal.
Lucky for the last few months has been spinning tunes at The Burrow Co. every other Saturdays (his next gig is this weekend on the 12th). Sometimes he's got themes going and did a memorable tribute to Chester Bennington (of Linkin Park) on the 18th of July. I was there in attendance and there were lots of people there for that. Overall it was a great experience. If you enjoy Rock music and sometimes a few surprises thrown in between then you definitely need to go check him out.
Aria when she's not taking photos is a phenomenal landscaper and decorator. I've seen first hand what she is capable of and I cannot express how good of an eye she has for it. Being someone that has very little patience for this type of thing, I respect anyone who devotes their time into creating awe-inspiring lands for her clients.
The couples pose I've chosen comes from a fairly new pose pose store called "PosaRosa". I myself like to show love to some of the new kids on the block when it comes to poses so that with the light shining on them people get to know them better. I feel with the photo I took of Lucky and Aria, it made for a really sweet fall type moment. Those looking for couples poses should take a look at "Support Me!" at the PosaRosa booth at Pose Fair which runs until the 21st of September.
Also be sure to check out Lucky's blog here and also Aria's blog here for more great photos and fashions.
POSE: PosaRosa – Support Me! @ Pose Fair ✦ NEW
Style Credits: Lucky
HAIR: Stealthic – Baron
HEAD: LeLutka – Skyler 2.0
EARS: Swallow – Pyramid Ears
SKIN: Stray Dog – Nathan (Tone 04 / BOM)
BEARD: Magnificent – Ducky Skunk
BEARD LAYER: Volkstone – Rey Facial Hair // 004 Tintable (BOM)
BODY: Legacy – Mesh Body (m) (1.2)
TATTOO: IDTTY Body Shop – Secret Fate
TATTOO: IDTTY Body Shop – Lonely Road
TOP: Cold-Ash – Blaise Tee
JEANS: Native Urban – Borealis Jeans
SHOES: Vale Koer – Verygood Sneakers
Style Credits: Aria
HAIR: DOUX – Olga @ Equal10 ✦ NEW
TOP: Tres Blah – Slouch Tee @ Collabor88 ✦ NEW
LEGGINGS: Osmia – Kristen Leggings @ Equal10 ✦ NEW
BOOTS: Miss Chelsea – Hazel Boots @ Anthem ✦ NEW