I've been looking so long at these pictures of you
That I almost believe that they're real
I've been living so long with my pictures of you
That I almost believe that the pictures are
All I can feel

Pictures Of You, ♫The Cure♫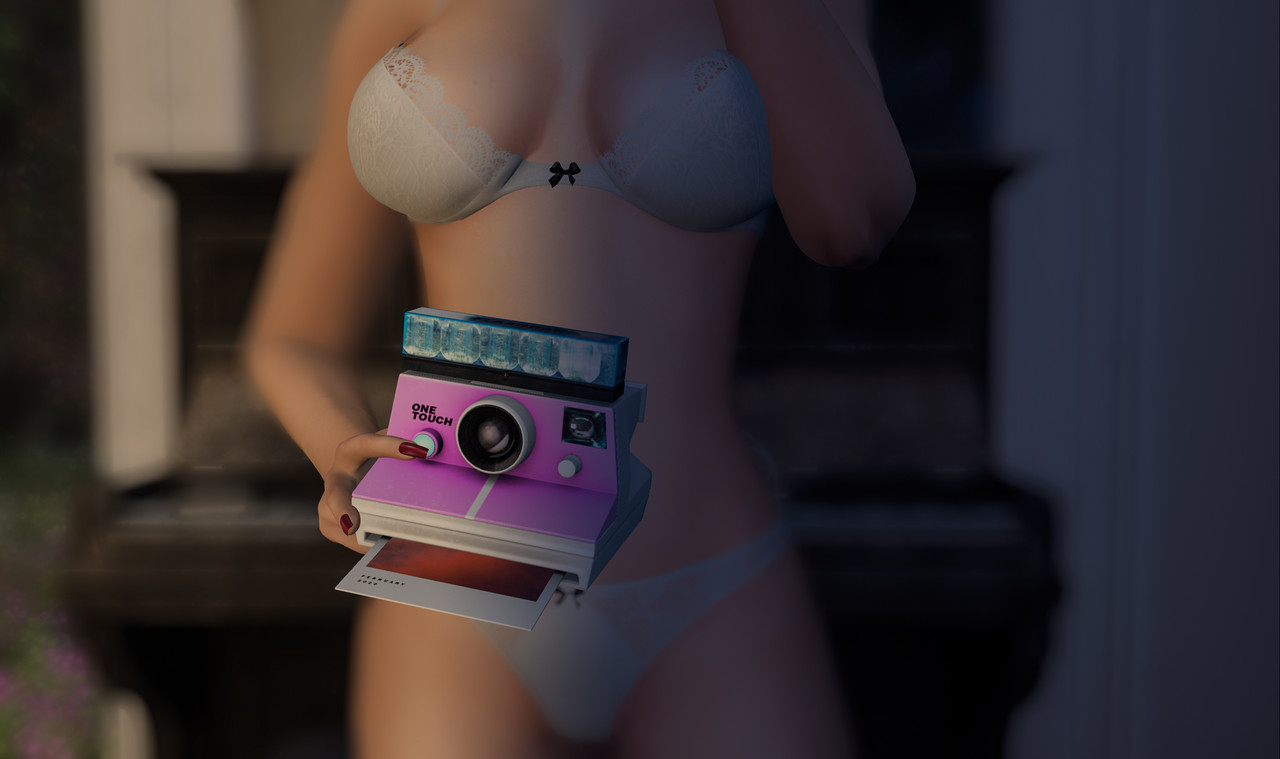 Time can easily get away from you. It is one of the easiest ways I can explain for my absence over the past few weeks along with the fact that I'm still not all that inspired like I once was; I still love taking photos but sometimes I just have to really feel motivated to and that's been my issue over many months. Of course there's personal reasons for that and those closest to me understand that. I would love to come back stronger but I guess it is just not there yet or I'm not ready.
This is meant to be a quick update because I really wanted to take a photo with the latest release from Lock&Tuft. It's a cool camera that's reminiscent of the old Polaroid cameras and the retro ones they came out with a few years ago. It's got three different pose positions (high, low and side) and comes complete with a texture changing HUD with three colors (green, pink and white). For the photo I took, I thought I would focus the most on the camera because I tend to find myself taking photos and piling different clothes together trying to get credits in and it becomes distracting and never turns out right. Personally I think this turned out great and for something simple it works as I intended.
Maitreya has also released a new update that includes compatibility with BOM (Bakes On Mesh). There are a lot of little additions like a few extra feet positions and that of different nipple functions which I didn't feel the need to mess around with. The underwear that comes with the body has also been revised by Erratic and is very detailed.
You can grab the 5.0 update at the store of if you are a part of their free group (Maitreya V.I.P.) you can get a HUD that will auto deliver the new version too you. Part of the features added is being able to get future updates or if you just need a redelivery, you can get it right from the Body HUD itself. Tableau Vivant has also included their entire skin tone range as well for those who are avid wearers of their skins that's certainly a great feature too.
As much as I didn't think I would like Bakes On Mesh, my mind is slowly starting to change but there is still a way to go before I am all the way invested in it. I'm still pretty firm on my liking of appliers.
When words become unclear, I shall focus with photographs. When images become inadequate, I shall be content with silence.
Ansel Adams
CAMERA: Lock&Tuft (Store / MP) – Camera ✦ NEW
BODY: Maitreya – Lara v5.0 ✦ UPDATE
BRA/PANTIES: Erratic – Lara (Included with Maitreya Lara Body)