And I don't even know where I'm going to
But I don't want any motherfucking part of you
I've been waiting for this moment for way too long
I don't know where I'm going but I just keep moving on

Three Days Grace, ♫Right Left Wrong♫
Posts have been few and far between lately but there's several reasons for that but if anyone is concerned that I've retired from blogging, I can say with absolutely certainty that is not the case. My focus has shifted a little bit to a few things that are not virtual related but I still enjoy doing this but will not allow it to consume me like it has in the past and that's just the way it is. I have excellent brands that have given me an opportunity and I will keep trying to shine for them but I'm not necessarily looking for anything else on top of that or that has requirements that I'm not a fan of.
So to those stores that have shown their loyalty, I love you guys for letting me be myself and for having relaxed requirements so that the people that blog for you don't lose their minds.
Native Urban has a new Henley style shirt that is available at the Anthem event this month. It's compatible with Signature (Gianni) only…sorry all other fitted bodies (though I'm sure that the Legacy body owners will at least try the demo to see if they can get it to work). A cool feature about this is that in the package there is an untucked version for use with jeans or pants but it also has extra versions that work with previously released Native Urban products (Deck Shorts, Rolled Jeans / Pants and the Wezol Joggers).
The FATPACK HUD boasts 12 different colors with 4 different faces that can be colored and even the buttons have 4 different choices too! Single colors are available as well for shoppers that are only interested in maybe a certain color choice. To make things easy I did pair the shirt up with the Rolled Jeans and they fit together like a glove (as they are supposed to!)
I also decided before I take some photos of other new Session Skin items (one male and one female) that I'd wear "Simon" for one more go in case it takes a while for me to wear it again. They have such a great variety of them that I tend to be torn with which face to wear but it does help that I have them kind of categorized by mood so that helps me distribute as evenly as possible. Simon can now be found at the Session Skins store after having it's run at eBento.
Also making an appearance in this blog that I'd like to mention is the "Fade To Black" backdrop by Paparazzi. It's part of a Gacha that was from the June round of The Arcade and the entire set is pretty cool but I know sometimes those machines can be pesky so I wouldn't say to anyone to seek out the entire set but at least take a ride over to Paparazzi's store and play a few times just to have something interesting and cool to use in a scene.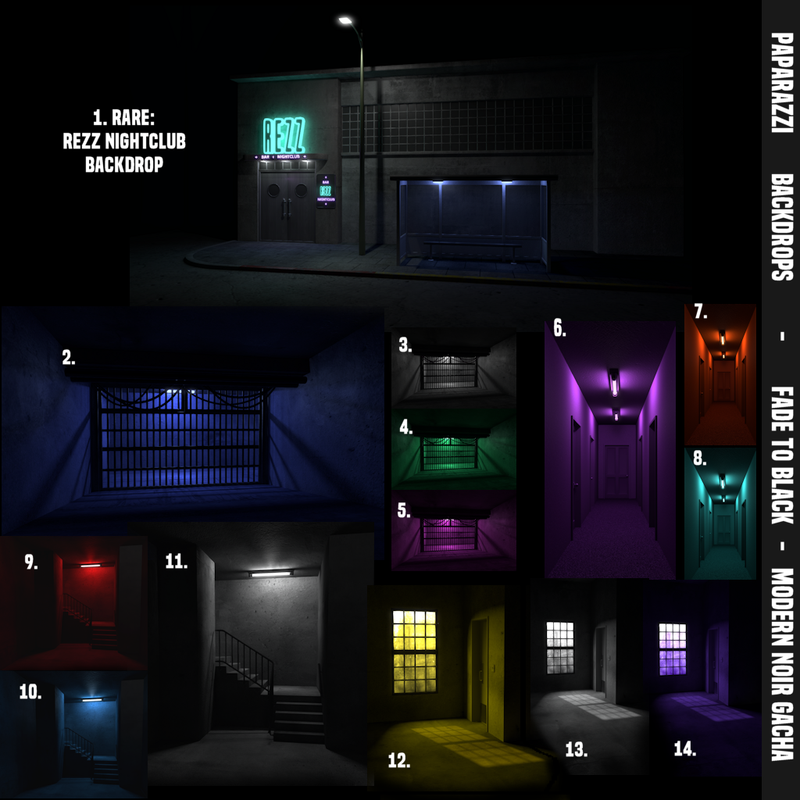 Yesterday is not ours to recover, but tomorrow is ours to win or lose.
Lyndon B. Johnson
POSE: Chat Noir – 1002 ✦ Group Gift
BACKDROP: Paparazzi (Store / MP) – Fade To Black 13 ✦ Gacha
HAIR: Stealthic – Rebellion
HEAD: LeLutka – Guy v3.3
SKIN: Session Skins (Store / MP) – Simon (Tone 02)
SHIRT: Native Urban (Store / MP) – Cercle Tee @ Anthem ✦ NEW
SHORTS: Native Urban (Store / MP) – Rolled Jeans
SHOES: Equal – Regan Sneakers (FATPACK)