I wanna see you shine
I wanna see you go for the win
I wanna see you move
I wanna see you love your life again
For you

Cold, ♫Shine♫
I know that it has been a long while since I last posted but without going into really any detail, I'll say that it was not something I planned on. From this point forward I'm going to just take things a day at a time and hopefully really get my appetite for creation back but it's not something I can promise. Even just posting this today has had a little bit of struggle to it.
I wanted to at least see if I could bring myself to even post something and show a little love to Native Urban and Session Skins in the process and I hope I have not failed them as they've given me a wonderful opportunity to be able to showcase their work; even with me not cranking out things every day or every other day I am going to make sure that if there is any inspiration that comes I'll make sure it shows up here and that it is the best it possibly can be.
Do I still love blogging? The answer is simply yes but sometimes life has a way of placing roadblocks up that deter you but eventually you get passed them and find a new normal…I'm not sure when I'll find that new normal but I'm not going to force that either so anyone out there that's shown me love and stuck with me since day one you have my loyalty always.
I'm going to encourage you to listen to the song that I've accompanied with this blog because it's very meaningful and very beautiful and has helped pull a little bit of the magic I've lost out. Hope to see everyone again soon but until then look after yourselves and those you care about surrounding you.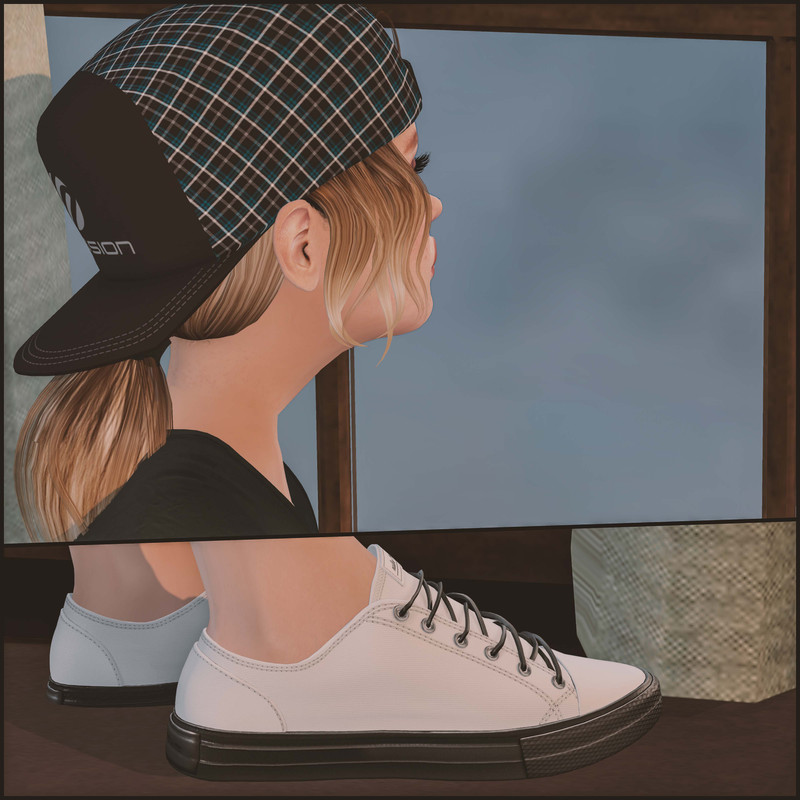 POSE/BACKDROP: Salacity (Store / MP) – Window Seat Backdrop
HAT/HAIR: Session Skins (Store / MP) – Snapback Cap and Hair
HEAD: LAQ – Noelle
SKIN: LAQ – Ines (Tone 1.0)
BODY: Maitreya – Lara v4.1
TOP: Vinyl – Locked Out Tee / Black
LEGGINGS: Sn@tch – Hwasa Random Leggings
SHOES: Native Urban (Store / MP) – Reflection Sneakers (All Colors)