'Cause my monsters are real, and they're trained how to kill
And there's no coming back and they just laugh at how I feel
And these monsters can fly, and they'll never say die
And there's no going back, if I get trapped I'll never heal
Yeah, my monsters are real

Shinedown, ♫Monsters♫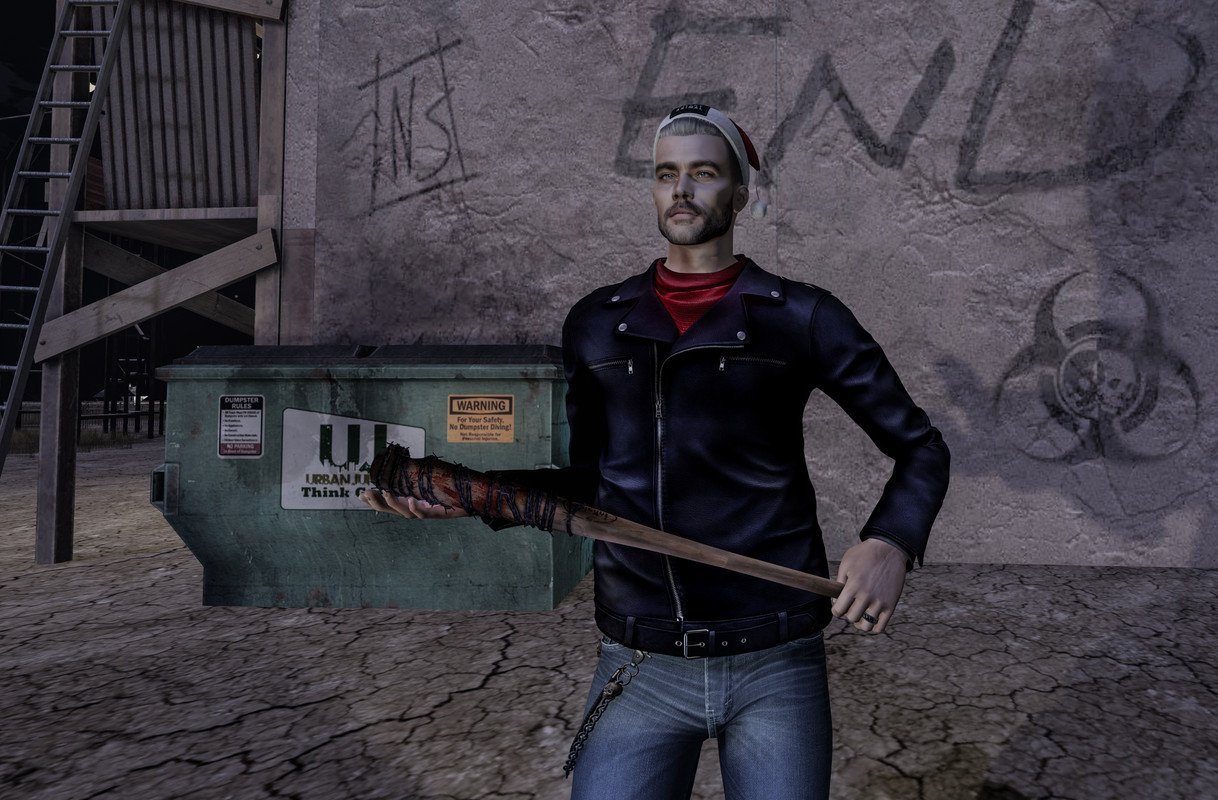 Thought I would just take a one small break between posting wintery posts for Pose Fair and sneak in a little something different. I felt like it would be a good time to do what likely a lot of people are doing and posting Negan pics because of the Stray Dog "Jeffery" skin that was released at TMD this month. It's a fantastic likeness of the man who first came into our homes as the Patriarch of the Winchester boys of Supernatural. After many different films and being cast as the psychotic sociopath that wields a bat on The Walking Dead, the virtual world is getting a facsimile that is pretty darn close to the real thing.
Jeffrey has several options built into it's HUD including a clean shaven face as well as his post apocalyptic beard. There are also two different styles of eyebrow types built into the applier along with a no brows version as well. A lot of skins by Stray Dog that have been released pay tribute to great actors and each one has definitely been a hit (I can't see how they couldn't be!)
I definitely chose the right styling for this blog post as a while back Cold-Ash released a version of Negan's jacket so pairing that with my new favorite pair of jeans by Lapointe & Bastchild's Swear imprint has brought the charming yet evil as sin character to life virtually as I took to the Bartertown sim. Also I went back and dabbled with the Black Dragon viewer after updating it to the latest version (and also putting in the settings I had that were wiped out). I think that it's going to take me a lot of messing with this before I end up using it for photography permanently instead of Firestorm.
I'm also wearing the "Bad Santa" hat/hair combination from Lock&Tuft (available now at Tannenbaum) but I plan to do more posts with it so that I get a better angle of it but it's definitely tougher to do as I've done a couple of photos with it including this one and I haven't captured it well in any angle that I've tried but I'm going to keep trying until I've got it 100%. Certain hair styles make it harder to capture well, especially with the addition of the Santa Hat because of it's curvature.
Be careful in the company of monsters that you don't become one.
Cindy Gerard, Take No Prisoners
Photo taken @ Bartertown
POSE: Image Essentials (Store / MP) – Batter Up
BAT: Inkside – Barbed Wire Baseball Bat
HAIR: lock&tuft – Bad Santa @ Tannenbaum ✦ NEW
HEAD: LeLutka – Guy v3.4
SKIN: Stray Dog – Jeffrey (Tone 03) @ TMD ✦ NEW
JACKET: Cold-Ash (Store / MP) Survivor Jacket
PANTS: L&B Swear (Store / MP) Havoc Jeans (FATPACK)