Second guessing, I'm so stressed
Success is an empty lie
So what's the point if that's our purpose
On Earth by design?

Over My Head, ♫Judah & The Lion♫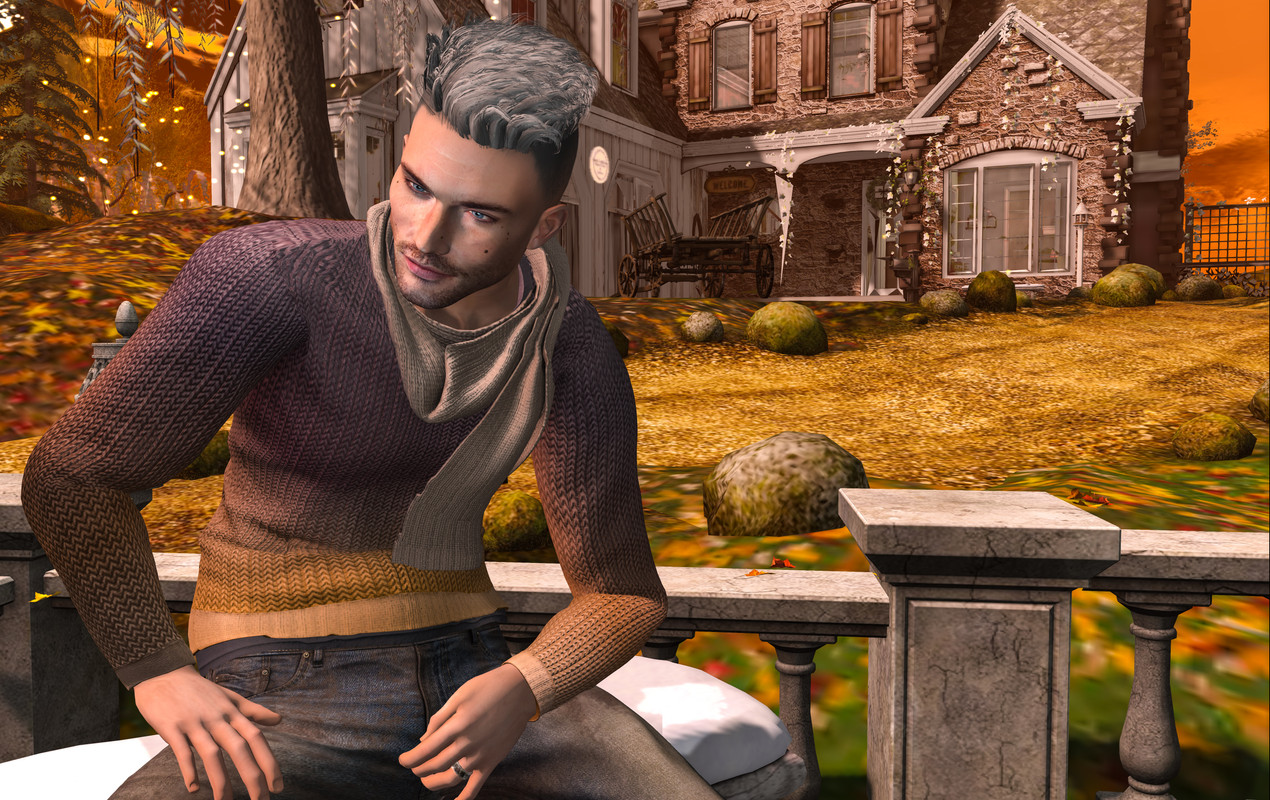 This post in a way is redundant in the fact that I'm doing a fall scene yet where I'm from we maybe had like a weeks worth if that of actual fall. It's just before Thanksgiving and it's more winter than anything but that is the unpredictability of it. Anyway, I found some inspiration venturing around sims that are found on the Blogger and Vlogger Network's list of rezzable sims. I wasn't necessarily looking for a fall background and in the same vein I was also not looking for a winter one but would have made it work if I'd found one. I really liked the colors that Pegasoi had as I roamed around and stumbled upon a bench with a very nice looking home as a nice backdrop (even though it's not a backdrop in the SL sense of the matter).
One of the hairs that lock&tuft released while I was on my sabbatical/hiatus (not sure what I really want to call it at this juncture) is called "Groom". I'm not sure if that's a reference to say a wedding groom or just that it's a well groomed style. My mind sometimes tends to try and make rhyme or reason for things even if there may not be any intended meaning behind something. I really like that it comes with both a normal style and a messy one so that conceivably I could wear the normal version at the beginning of the day and by the end have on the messy one before I log out to show that I've potentially been up to no good, right?
Somewhere in between the time of me being away from the blogging world and now, Tori Torricelli offered to their VIP group members the "Cormac Scarf & Sweater" for free as well as one to gift a family member or friend. I thought this was one of the coolest things for a store to do and I had grabbed mine (it was at TMD when the offer was available) and have been sitting on it for a bit of time until I thought that it would work for this particular blog photo session. It's perfect for a fall day jaunt without feeling like your virtual self would come down with some kind of illness (yes I'm aware it's not possible but work with me here). The scarf and sweater both have HUDs (this is for the Fatpack version) with many different styles to choose from and I went through several before I decided on what you see in the photo. This is by no means my usual pallet but I wanted to try something different and that worked with the colors that were around me.
I am quite happy with the results and maybe this is a good sign of things to come.
Winter is an etching, spring a watercolor, summer an oil painting and autumn a mosaic of them all.
Stanley Horowitz
Photo taken @ Pegasoi
POSE: WRONG – Sit Static Male Poses 42
HAIR: lock&tuft (Store / MP) – Groom (Messy)
HEAD: LeLutka – Guy v3.4
SKIN: Session Skins (Store / MP) – Tom (Tone 03)
SCARF & SWEATER: Tori Torricelli – Cormac Scarf & Sweater
JEANS: Deadwool – Kojima Jeans