No, I'm not dead yet
I'm losing myself to the darkness in my head
Suffocating
Getting hard to breathe, everything is caving in
I won't let it
I keep weighing me down but this isn't how it ends
I'd regret it
No, I'm not dead yet

Fame On Fire, ♫Not Dead Yet♫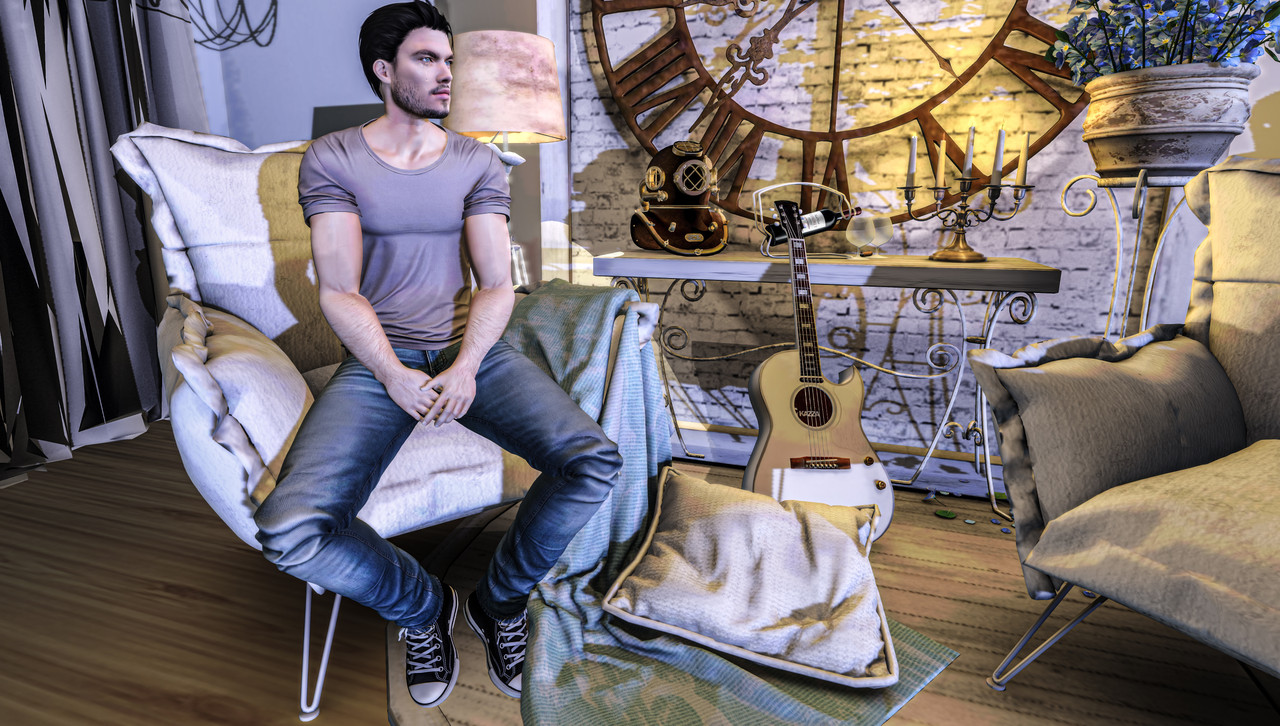 Just a couple more days left for the September round of Pose Fair. I encourage everyone that hasn't been there for some reason or another to take a look at the multitude of excellent pose creators participating in this event. There are too many good ones that I wouldn't want to take away from any of them by only listing a few. That would just be discourteous.
In the scene I've photographed today I'm using a pose from the "In My Head" set by XTC Poses. It's a set of sitting poses that for me is great because I tend to want to do more poses where I'm sitting but usually never find the right one and I give up way too easily. This particular set really caught my eye so it all just came down to which pose would win out and be the one I used.
While I'm not much for decor, I found myself really liking the "TimeRoomSet" by Kazza that is available for a really inexpensive price for Happy Weekend. It is also something worth checking out too for anyone who might be looking for some furniture that looks great. There is not much to say about my look other than most of it is comprised of some of my favorites like my hair by Stealthic and my clothing by Cold-Ash. The only other new item besides the pose is the "Seth" skin by Stray Dog which can be found at this month's TMD (The Men's Department).
BACKDROP: CuCa Designs – Moving Day
FURNITURE: KAZZA – TimeRoomSet (Happy Weekend Exclusive)
POSE: XTC Poses – In My Head @ Pose Fair ✦ NEW
HAIR: Stealthic – Atlas
HEAD: LeLutka – Skyler 2.0
SKIN: Stray Dog – Seth (Tone 02) @ TMD ✦ NEW
SHIRT: Cold-Ash – Blaise Tee
JEANS: Cold-Ash – Larkham Jeans