Change my attempt good intentions
Should I, could I
Here we are with your obsession
Should I, could I

10 Years, ♫Wasteland♫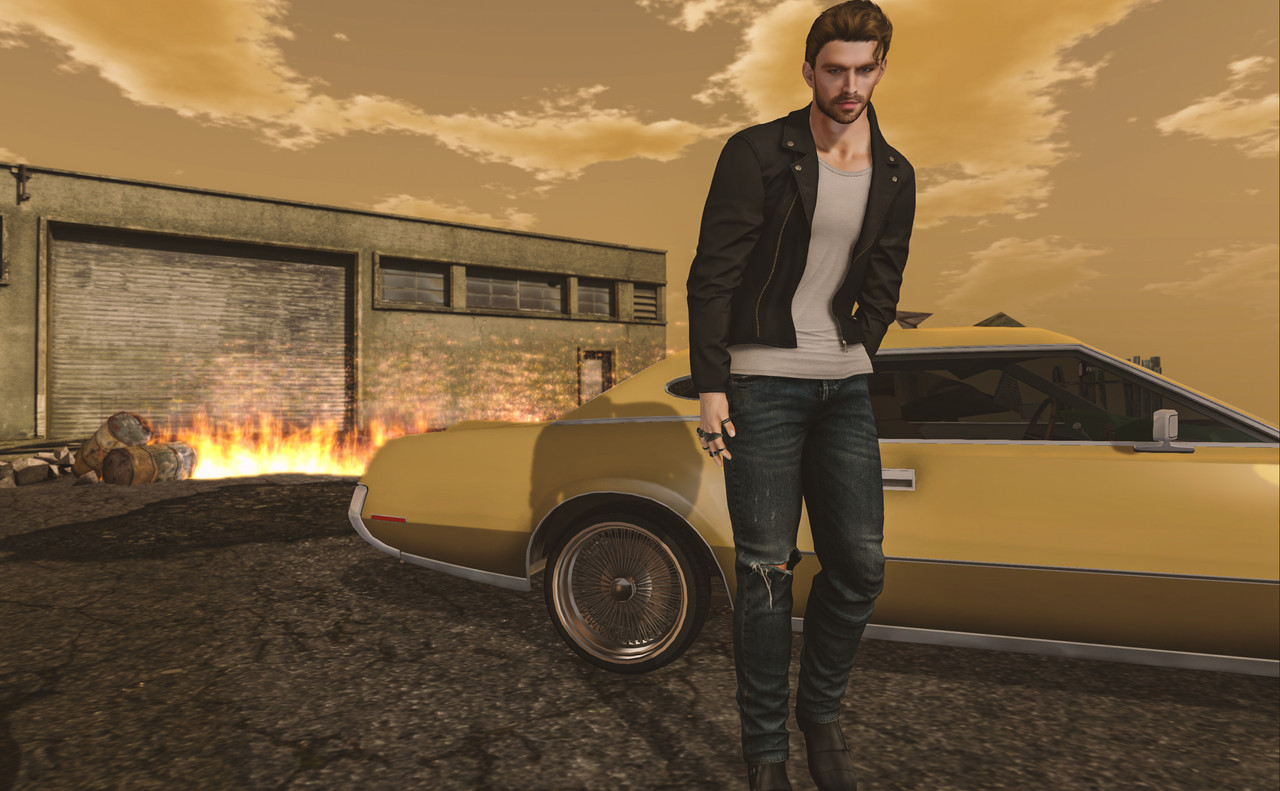 There is only week week left of Pose Fair and if you haven't paid the event a visit my only question is why not? With all the male and female poses combined with couples, friends and other miscellaneous poses (not to forget backdrops!) Even the amateur photographer who does it for fun can find great new things to use to make their creative works stellar.
One of Gravity Poses latest sets called "Walk 6-10" is for single males and as the name suggests are walking inspired. I value poses that showcase action or movement and even though I like stationary expression, there is something more about telling a story about possibly getting from A to B. To be able to make the viewer think "Where was he coming from and where's he going next?" The "Wasteland Scene" by Synnergy helps tell that story as well as it looks like our protagonist (or antagonist) is in a future where everything is desolate.
The vehicle you see as part of the scenery is a group gift by 777 Motors called the "Pimpmobile". While the name itself gives me a bit of the giggles, I really think for the group price which is under 10 lindens is a good value. Even if you don't want to drive it around you can use it just like I did. Once again I am also wearing clothing from Cold-Ash including one of their most recent releases the "LEON Leather Jacket" which gives the option of a shirt or hoodie option. Super stylish and a must have for leather jacket aficionados.
BACKDROP: Synnergy – Wasteland Scene (Manly Weekend)
CAR: 777 Motors – Pimpmobile (Group Gift)
POSE: Gravity Poses – Walk 6-10 @ Pose Fair / NEW
HAIR: Stealthic – Atlas
HEAD: Lelutka – Paxton 2.5
SKIN: Stray Dog – Seth (Tone 02)
SHAPE: My Own
JACKET & SHIRT: Cold-Ash – LEON Leather Jacket w/Tee
PANTS: Cold-Ash – HOLLOWAY Ripped Jeans