I had enough, it's time to beat this habit
I'm growing cold, I'm caught in your madness
Soon enough, you'll only end tragic
I hear your voice, the comfort in sadness

Silverstein ♫Madness♫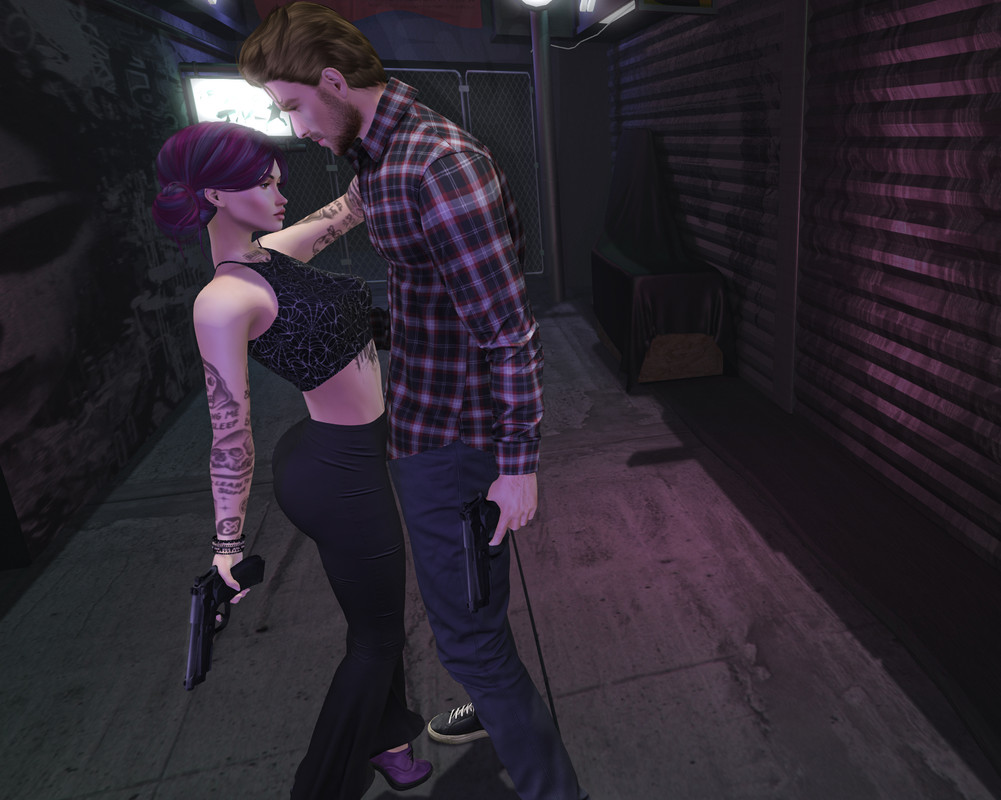 Couples poses can have different categories and meanings. It isn't just for the relationship and romantic variety of photography that it usually gets associated with. They can also be considered action shots or even friends and family pics depending on the pose itself. CuCa Poses mixes a bit of action and romance with the "Ride Or Die" poses sets currently available at Pose Fair. This is the first pose set in the group and as you can see there could be action taking place before or after the scene I put together. There is even a slight hint of romance there and has a movie quality about it.
I'm also excited that Cold-Ash released two new items at the beginning of this month. The "Hawthorne Shirt (Plaid Pack)" is a part of the March round of The Men's Department. Being that I am a sucker for button down flannel shirts this really was a must for my closet. To go along with it is the "MILES Casual Chino Pants" which is available at the Cold-Ash store. These are great for when you aren't feeling jeans but won't be going anywhere that requires dress pants. Anyone that is a fan of Cold-Ash will definitely want to grab these up.
BACKDROP: ISUKA – Yokocho Backdrop / No Longer Available
POSE: CuCa Poses – Ride Or Die 1 @ Pose Fair / NEW
HIM
HAIR: Stealthic – Atlas
HEAD: Lelutka – Paxton 2.5
SKIN: Stray Dog – Seth (Tone 02)
SHAPE: My Own
SHIRT: Cold-Ash – HAWTHORNE Shirt (Plaid Pack) @ TMD / NEW
PANTS: Cold-Ash – MILES Casual Chinos @ Mainstore / NEW
HER
HAIR: TRUTH – Jacica
HEAD: LeLutka – Lilly 2.5
FACE: Clef de Peau – Simona (Group Gift)
TATTOO: TattooMania – Dead / No Longer Available
BODY: Maitreya – Lara v5.3
TOP: Addams – Emilia Crop Top // LIMITED EDITION
PANTS: Addams – Athena Flare Pants