Snow's coming down
Watching it fall
Watching the people around
Baby, please come home

Christmas (Baby Please Come Home), ♫Dustin Kensrue♫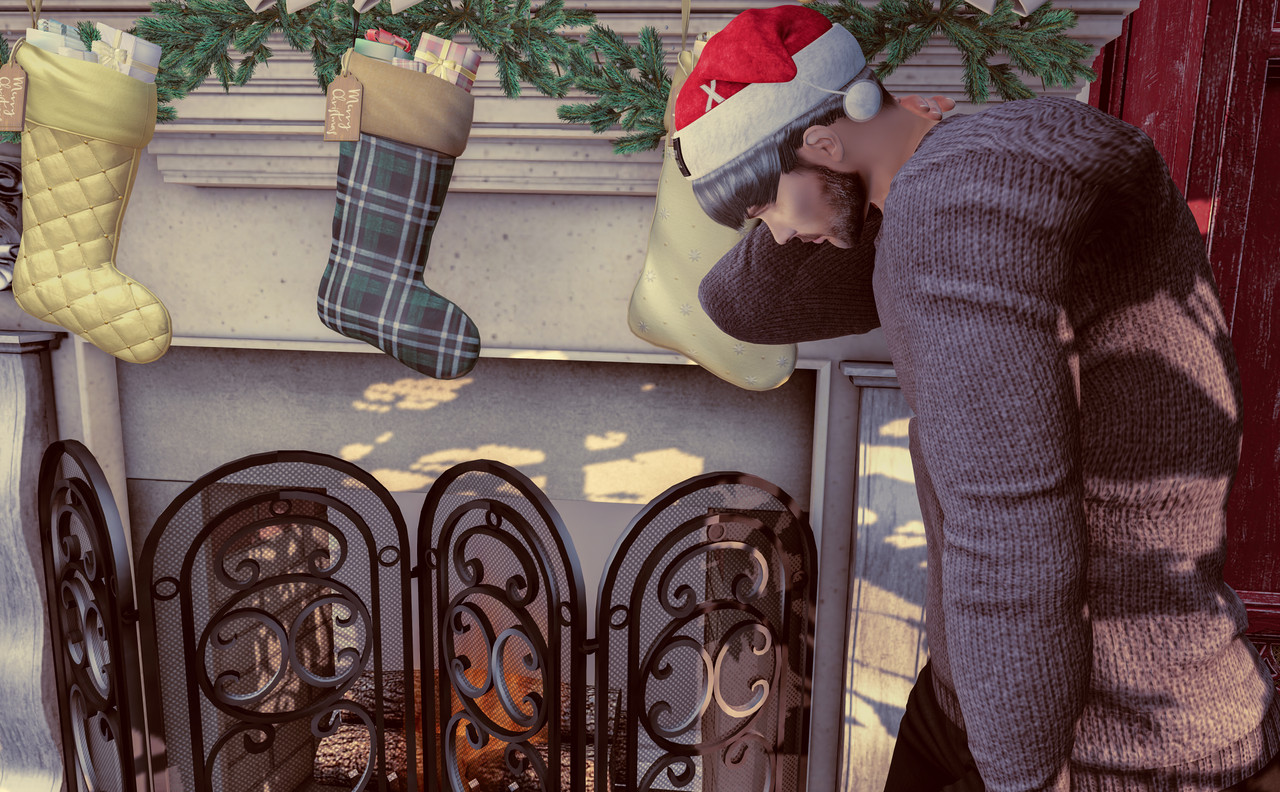 Tomorrow is Christmas Eve so I thought I'd do a little blog post because I'll be spending time with family and not sure exactly how much time I'll have online or want to spend online. Eventually I'll run out of songs to use each year because I'm pretty picky but until then I'm going to use ones that I really like, as is this version of this song as performed by Dustin Kensrue (of the band Thrice). The holiday this year is definitely a lot different for me then in years past but I can also hope for next year to be better than this one.
I finally managed to get a good shot of the "Bad Santa" hat by lock&tuft just in time for the holiday. It should be in the store now as Tannenbaum ended a few days ago but I can take a big breath to know that I finally ended up with something that I'm satisfied with as far as angles go. There's a lot of features of the hat/hair combo that would have taken a lot of pics personally as a rule I haven't been doing more than one pic per post unless it is largely story based. In the box it comes with two HUDs that are for the hat and then for the hair respectively. The hat itself has 3 different parts that can be changed (the fur at the base and ball, the main part of the hat and then for the patch that has some rather funny sayings such as "Merry Christmas ya filthy animal" ala Home Alone 2). The HUD to color the hair speaks for itself and also has a built in hairbase applier for Catwa, LeLutka and Omega (depending on your preference).
This post isn't meant to be word heavy as they can sometimes get so I'm going to end it by wishing everyone out their a very happy holiday and a Merry Christmas (or for those who have other festivities to enjoy those as well as in the end it's all relative). To my fellow bloggers/photographers I wish you all the creativity and good tidings in the world as all of us have our own unique way of telling stories through the photos we blog (or post). To those close to me (you all know who you are), you are the gifts that give continually throughout the year and whether we speak every day or even just now and then on account of busy schedules there is a place in my heart where you reside.
Now that all the sentiments have been spoken, who has the egg nog?
Christmas is most truly Christmas when we celebrate it by giving the light of love to those who need it most
Ruth Carter Stapleton
POSE: Chat Noir – 1753 Pose Pack
HAIR/HAT: lock&tuft (Store / MP) – Bad Santa
SWEATER: Lenox – Wool Sweater (Fatpack)