As a single tear falls to the ground
For the people that we are not now
If you're not you you're everyone else
Who are you, who are you now?
Burned our teenage years down to the ground
Oh the hand on the clock's wearing out
If you're not you you're everyone else
Who are you, who are you?

The Maine, ♫My Best Habit♫
I found myself just kinda chilling and listening to music and I reached an idea while listening to one of the songs on the most recent iPod playlists I made. Yes I have an iPod (it's one of the Classic ones so when it bytes the dust then essentially I'm outta luck…get what I did there?) I know everyone seems to be using Spotify or some other thing but I'm just happy with the things I know and with an iPod I don't have to dink around with having to have a certain amount of data or whatever for my phone or tablet etc.
So as it stands I'll stay in my somewhat cross between tech savvy and Luddite and that's just fine with me.
For this blog entry I put together a nice batch of things to complete the scene that is one for the ladies this time out. That's just the way the inspiration took me because with the song I chose to carry it through, it had more of a female vibe to it even if the band that performs it has a male vocalist if that makes sense? I think with just the upbeat nature of it I could just throw on some pink or purple tones and just get right into it.
Paparazzi just dropped two new different backdrop styles at equal10 that are just asking for people to give them a look. The "Starlit Staircase" that you can see here was the mood I wanted and also the purple version fit the color scheme that I wanted to work with as well. All it took was a some messing around with windlights and I had one of the easiest photo sessions that I can think of in a long time.
Hair Fair for 2019 is a mere few days away and this is one of the events that I'm always excited for to see the different styles and choices from all the big creators as well as new ones that become popular names. If you make it into Hair Fair then you definitely aren't doing too bad and that is my take on it really.
This is why I'm really proud to say that my son Elijah (aka Alyx Banks) of Lock&Tuft has four new releases coming out at this years event. I'm featuring one of them and I will be adding the taxi to the credits as soon as it officially opens and know what sim it will be located on but until then you get to take a look at "Beau" which is a pulled up bun type style. The styles for all the of the hairs are inspired by characters that are a part of a web series called "Critical Role" which is where professional voice actors play Dungeons & Dragons. It's not something I've heard of but being that I'm old school and loved D&D it's something I might have to check it out.
Uber still has around a week left and while I'm not necessarily a fan of styling myself in anything with long sleeves during the summer months here in the US, in some places the evening time can be a bit cool so with that line of thinking I highly suggest that the ladies check out the "Gemma" jacket from Swear by L&B. I really like the frond type laces on the sides of the jacket and also the back (not shown). I am always pretty amazed by the amount of color styles in the full HUDs that L&B does and this does not disappoint either. Along with options for Light, Medium and Dark color choices the crop top also has some graphic options as well as solid colors as well so you can represent your style the best way possible.
The jacket is compatible with the following mesh bodies: Belleza (Freya/Isis), Maitreya and SLink (Hourglass/Physique). For anyone who may have the legacy body the only thing I can suggest is that you grab a demo and see if it will work for you but definitely don't buy it without doing that first.
This is the second time that I have given a female skin by my people at Session Skins a shot and while I definitely would eventually like to add Genus to my lady style portfolio I am still pretty happy with LeLutka's Korina and LAQ's Noelle heads so maybe down the road still I will give it a shot but not in the near future. With that said, the "Gemma" skin that was a part of last month's Dubai event (now available in the official store). I like the look of it and the applier HUD gives several different options such as moles and freckles, along with 6 different lipstick styles. You're also able to choose if you want to use the brows the skin comes with or to use some from your favorite brands as well.
One thing that I personally would love to see for the LeLutka heads is lighter tones like some of the Genus head skins have, that's just a personal preference of course but I don't really mind Tone 01 either. I think think that more options would give the discerning consumer a way to choose what best works for them (this would also count for the men's side of things too).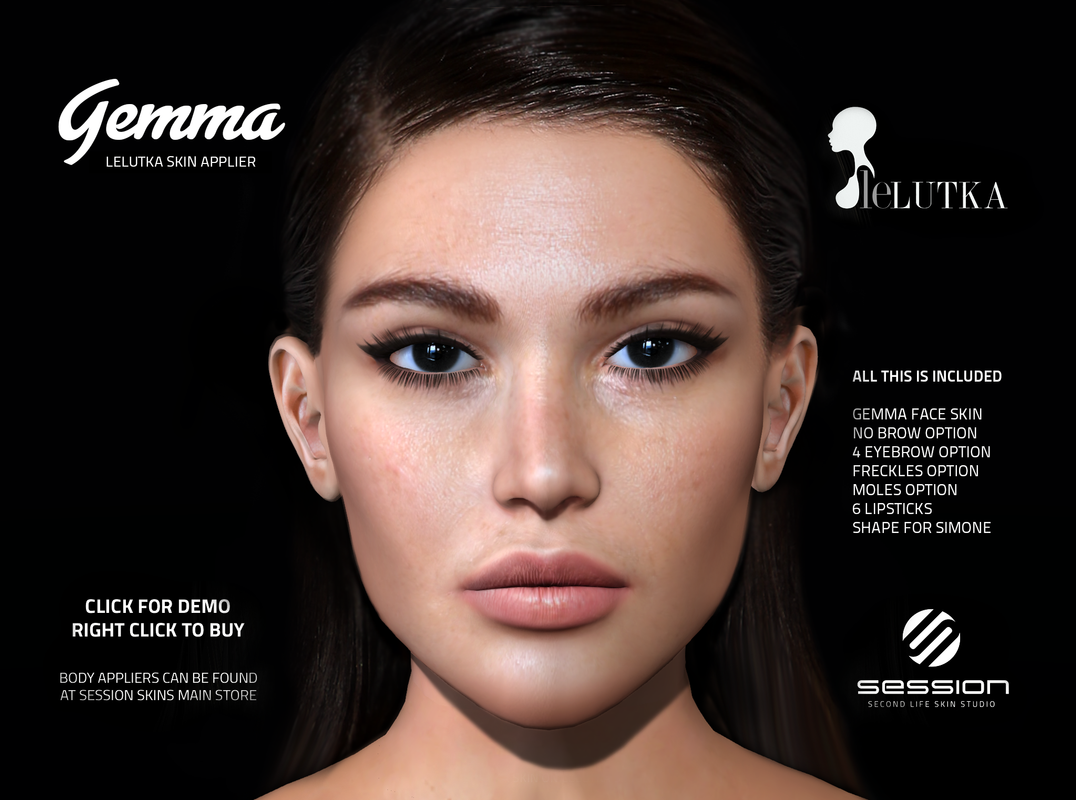 I thought it was really cool that several of these items came with the name Gemma, which is my daughter's name and while I don't get to talk to her or see her often these days I still think about her and can't wait for the next time we're able to catch up. Life just kinda happens and it's funny the way it operates really but…having great memories are what helps us I think.
Life is a long preparation for something that never happens.
W.B. Yeats
POSE: Chat Noir – Pose 1703
BACKDROP: Paparazzi (Store / MP) – Starlit Staircase @ equal10 ✦ NEW
HAIR: lock&tuft (Store / MP) – Beau @ Hair Fair 2019 / Coming 08/17/19 ✦ NEW
HEAD: LeLutka – Korina v3.3
SKIN: Session Skins (Store / MP) – Gemma (Tone 01)
BODY: Maitreya – Lara v4.1
JACKET / TOP: L&B Swear (Store / MP) – Gemma Jacket (FATPACK) @ Uber ✦ NEW
PANTS: L&B Swear (Store / MP) – Kayla Pants (FATPACK)